Monica Tovar is named as TMD's New President & CEO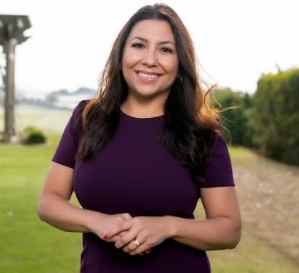 SALINAS, CA, January 7, 2022 — After many years in leadership roles with multiple media groups in Monterey
County, Monica Tovar is announced as New President & CEO of TMD Creative. Her position with the firm is
effective as of January 24, 2022, which will consist of providing marketing strategies, communications and
creative services to businesses, government agencies and non-profits.
"There is no one better to carry the TMD mantle than Monica Tovar. I have known her and worked with her for many years, she is a dynamic, creative, talented professional with tremendous leadership skills. This will be a great new chapter for TMD Creative, our great team, and amazing clients. I consider myself blessed to have Monica leading the team," said Nicholas Pasculli, founder of TMD Creative.
Prior to this position as President & CEO, Mrs. Tovar has held leadership roles at Entravision Communications, iHeart Media and Stephens Media Group where she managed teams to create and implement marketing strategies for small to large businesses. Her passion for community engagement has also led her to become involved in a range of charitable activities, currently including Board Chair of the Salinas Valley Memorial Hospital Foundation, Vice Chair of Resource Development of the United Way of Monterey County and Board of Trustee of Big Sur Land Trust. She has been a mentor at Hartnell College's Women's Education Leadership Institute for the last five years and while serving as a Board Member and Past President for the Monterey County Rape Crisis Center, she received a Philanthropy Award in 2016 for an event she helped create called #100MilesOfCourage.
"I'm truly grateful and excited to be a part of an established and talented full-service marketing firm. TMD has
exemplified top quality work and service with their talented team, and I look forward to bringing my experience to their amazing client base." – Monica Tovar

About TMD Creative
Now celebrating its 22 nd year in business, TMD Creative is a full-service marketing and design firm, headquartered in Salinas with remote locations in San Diego, Tahoe, and Yuma. Since 1999, TMD (The Marketing Department, Inc.) has specialized in developing award-winning campaigns for the agriculture and fresh food industries, creating communication tools designed to increase companies' market share and encourage brand loyalty. From print and digital collateral to packaging design and new media, TMD continues to elevate brands by delivering holistic solutions rooted in strategy and creativity.