Latitude 36 Foods
A leader in portion-packed salad condiments, spices, and private label snacks.
The team at Latitude 36 Foods came to us wanting to rebrand the organization to showcase their innovative, forward-thinking spirit. We began by developing a strong foundation for the brand, which was a sharp new logo.

We took elements from the original Latitude 36 Foods logo as an homage to its history and gave it a new look.

Our team designed a logo with the whole Latitude 36 Foods name as well as a short version, as Lat 36, which is how the company is often referred to by its employees, partners, and customers.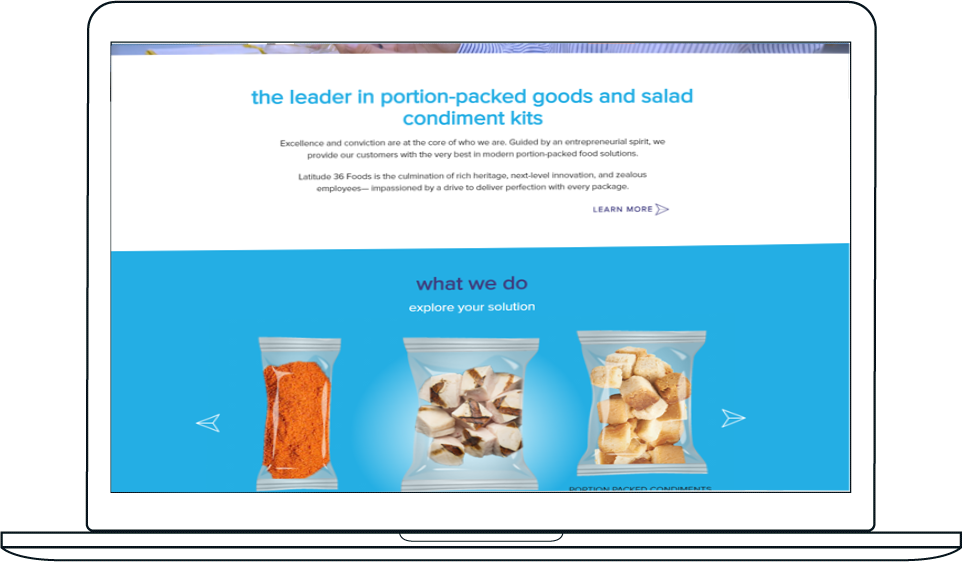 Website
The new website was designed with future growth in mind. The clean and simple look allows for easy navigation, focusing on the company's capabilities, products, and recruitment efforts.
LAUNCH SITE
Latitude 36 Foods is committed to its employees just as it is committed to food safety. We created a video that captured both the clean environment at their facilities and the unique company culture.
The new look was carried over to all of the social media content that we created for Latitude 36 Foods. Our goal was to portray a bright and friendly image on their social media platforms with attention-grabbing colors and sharp images. We created a wide array of interactive GIFs and digital ads highlighting their products and new messaging.
July 27, 2021
Latitude 36 Foods Debuts New Branding; Leslie Surber and Tobias Wisner Comment
SALINAS, CA – I'm a sucker for convenience, and individually portioned meal accompaniments are my kryptonite. Latitude 36 Foods knows I am not an outlier in this consumer trend, and continues to deliver on rising demand.
Read Article
July 23, 2021
Latitude 36 Foods unveils new brand identity
Latitude 36 Foods, a leader in portion-packed goods and salad condiment kits, has undergone a…
---