THE CLIENT:
Metzer Farms was started in 1972 by Olin Metzer when he began using ducks to control the snails in his sheep pastures. What started as a gardening hobby soon turned into a multi-generational family business. Marc Metzer, Olin's grandson saw an opportunity to expand their business by marketing duck eggs to chefs, restaurateurs, retailers and foodservice companies.
THE CHALLENGE:
Duck eggs are not widely used among home chefs, and are largely perceived as being a niche, specialty product reserved for professional chefs. Introducing a new product to retail shelves comes with its own challenges, not to mention changing the perception of shoppers that chickens aren't the only birds who lay delicious eggs.
THE SOLUTION:
Our team researched the preferences and perceptions of shoppers in regards to egg consumption, also taking into account the family's history and local roots in agriculture. We worked closely with the Metzer family on creating a name for this new company, ultimately deciding on "Olinday Farms" as a tribute to Olin.
It was a joy for our creative team to develop assets for their new website from scratch. We partnered with renowned chef Todd Fisher, a Monterey Peninsula native who has been a game changer in the local food scene for many years. Showcasing Olinday duck eggs as the star ingredient in his dishes, our photographers captured the entire process behind the kitchen. It was important for us to highlight breakfast, lunch, dinner and dessert to emphasize how versatile duck eggs are.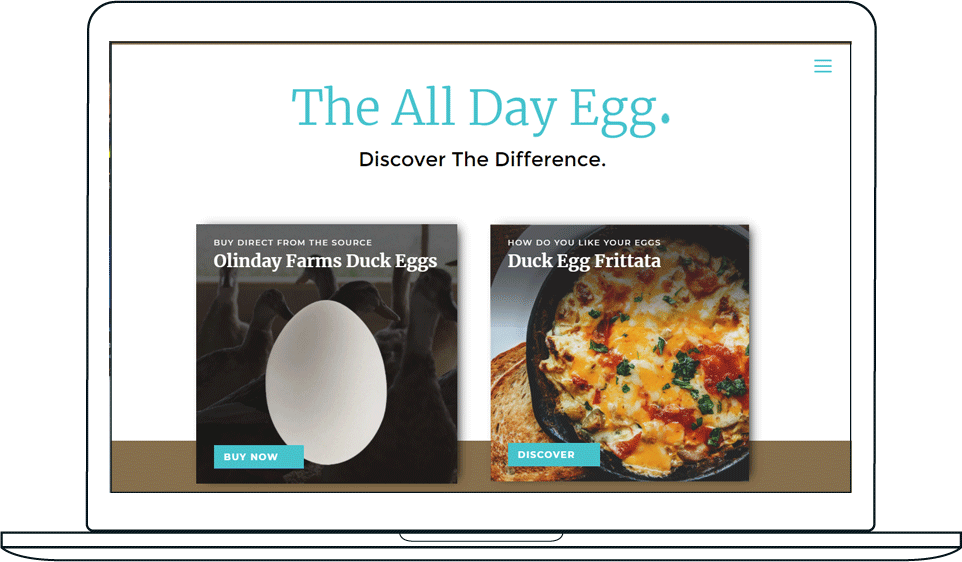 From mouthwatering photography to a cinematic video that tells their brand story, we designed a website with a sophisticated look and feel that also features useful information for both chefs and consumers. Chefs across California are serving up creative dishes highlighting Olinday duck eggs, so we made it easy for site visitors to find these at local restaurants.
LAUNCH SITE
"From day one, TMD has been integral in establishing a strategy for the launch of Olinday Farms, allowing me to focus my time on developing relationships with my own customers. From our company name and logo design to retail packaging and video production, the TMD team has brought nothing but positive attention to Olinday Farms and the values we stand for."
– Marc Metzer, President
Feb. 22, 2019
Awards for Consistent Excellence in Ag Given to TMD Creative
SALINAS, CA – TMD Creative has been making produce look pretty darn good, and now its been awarded for its efforts! Several award competitions have honored the international marketing and design firm for its work with fresh food and ag companies.
Read Article